Begin Healing with the Help of an Experienced Truck Accident Lawyer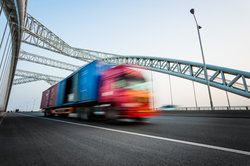 Lawsuits stemming from accidents with large trucks can be extremely complex cases that often have multiple responsible parties. These types of cases are typically the result of many separate causes that interact and make it more difficult to determine liability than in a motor vehicle accident. An experienced attorney can review a trucking company's maintenance records to ascertain the safety level of the equipment being used. Experts can also analyze and recreate the scene of the accident to define the events leading up to the collision. Chris Olsen is an accomplished truck accident lawyer in the San Diego area who has helped countless victims secure the compensation they are entitled to. If you or someone that you care about has sustained a personal injury resulting from an accident with a large truck, please contact our office to schedule a consultation with Mr. Olsen.
Common Causes of Truck Accidents
Many trucking accidents are caused by a combination of factors. There are often commonalities in collisions that Mr. Olsen can identify to determine liability and make your case stronger. These may include:
Driver negligence: Although most trucking company employees are excellent drivers that give proper, constant attention to the road while driving, occasionally an operator can lose sight of the appropriate safety precautions. Failure to obey federal and state trucking regulations is considered negligence.
Driver fatigue: The Federal Motor Carrier Safety Administration (FMCSA) has strict regulations governing the amount of time truck operators are allowed to drive and mandatory rest periods. Mr. Olsen can research trucking company records to determine if an overworked driver is at fault for your accident.
Driving under the influence: Unfortunately, many trucking accidents involve a driver who is under the influence of drugs or alcohol. For example, some truck operators take stimulants to remain alert while driving long hours.
Failure to maintain the vehicle: The FMCSA has strict rules about maintenance requirements and keeping detailed service records. Mr. Olsen can thoroughly research these records and determine if a driver, trucking company, or third party maintenance company is properly fulfilling their obligations to ensure the safety of their vehicles.
Overloaded or improperly loaded trucks: Improper loading or overloading can cause trucks to become top heavy and increase the risk of an accident. Failure to secure cargo can result in items falling off of a truck and cause an obstruction in the road, leading to an accident. The FMCSA has very specific laws pertaining to the proper loading of trucks, and Mr. Olsen will determine if these restrictions were obeyed.
Inadequate driver training: If a trucking company knowingly employed a driver without properly training them or ensuring that the operator was licensed for commercial vehicles, they are leaving themselves open to lawsuits.
Mr. Olsen will recreate the scene of an accident to determine if these or any other causes were involved in your collision.
Contact Our Office to Learn More
If you have been involved in an accident with a large commercial truck and need an experienced attorney to secure the compensation you deserve, please contact our office to schedule a consultation.