Car Accidents Attorney Chris Olsen Can Help You Secure Compensation
I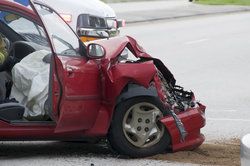 f you or a loved one has been in a car accident, you know how traumatic and frightening it can be, especially if it resulted in extensive property damage, serious injury, or death. According to the California Highway Patrol, there were 2,739 accident-related fatalities and 229,354 accident-related injuries in 2010. Many of these accidents were caused by recklessness or negligence on the part of another driver. Accidents can involve other vehicles like buses or motorcycles, as well as bicyclists and pedestrians. If you or a loved one was injured in an accident caused by another party's negligence, you need experienced, proven legal counsel. Chris Olsen is a veteran car accidents attorney serving the greater San Diego area. He will work to prove who was at fault in the accident, and to help you secure the compensation you need for medical bills, property damage, and pain and suffering. Contact us today to schedule a consultation.
Why Do I Need an Attorney?
Occasionally, car accidents are straightforward. You are injured, the other driver was clearly at fault, and their insurance company pays compensation. But auto accident cases are rarely that simple. All too often, insurance companies will deny your claim, will not cover any medical expenses, or will refuse to pay compensation for pain and suffering. In other cases, the other driver may have been uninsured, or there may be a dispute about who was at fault in the accident. In cases such as these, Chris Olsen will conduct an extensive investigation of your accident to determine responsibility. This investigation may include witness interviews, police reports, photos of the scene, documents from the Department of Motor Vehicles, and expert accident reconstruction.
Chris Olsen will also closely examine your medical bills, lost wages, property damage, and other factors to determine the amount of compensation you need in order to adequately cope with the aftermath of an accident. A personal injury attorney can also help you find experienced doctors and file your insurance claim.
Experience and a History of Success
Because auto accident claims can be so complicated, it is important that you secure the representation of an expert attorney with a strong track record. Chris Olsen has been practicing law since 2005, and started his own firm in 2010. Since then, he has collected millions for his clients. He settles most cases in pre-trial negotiation, but he is not afraid to go to court if necessary. If your case does go to trial, he can conduct a mock jury to scrutinize the strengths and weaknesses of your case in detail. In both pre-trial negotiation and litigation, he will work to secure the compensation and the justice you deserve.
Contact Chris Olsen Today
If you or a loved one has been injured in a car accident, it is important to seek outstanding legal counsel as soon as possible. Taking early action will allow your attorney to conduct a more detailed investigation and obtain a fair settlement. Contact Chris Olsen today to schedule your free consultation and to get started on the path to a fair resolution.